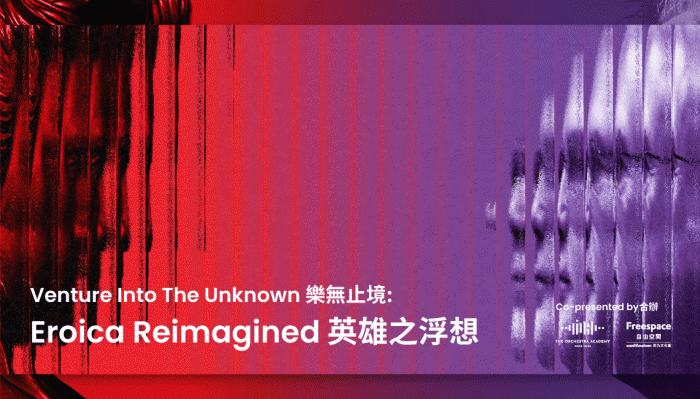 An experimental chamber music experience blending physical theatre and two groundbreaking works by Beethoven and John Adams
In this unconventional performance, the musicians of Young Pro Platform present two groundbreaking works – Beethoven's Eroica Symphony and Chamber Symphony by contemporary American composer John Adams – that both demand great virtuosity of the performers. Presented in collaboration with a team of young Hong Kong actors, the unique, immersive event combines musical performance with elements of physical theatre, movement and installation. Join us for a venture into the unknown!
The performance is conducted by Sharon Andrea Choa, with artistic direction from Sharon Andrea Choa and Ata Wong.
The Young Pro Platform comprises 19 graduates of the School of Music at The Hong Kong Academy for Performing Arts. It is one of the core schemes of The Orchestra Academy Hong Kong, a programme co-directed by the Hong Kong Philharmonic Orchestra and The Hong Kong Academy for Performing Arts.
Programme:
Beethoven (arr. Natalia Ensemble) | Symphony No. 3 Eroica – for Nonet (Hong Kong Premiere)
Adams | Chamber Symphony
Artistic Team:
Artistic Directors: Sharon Andrea Choa, Ata Wong
Conductor: Sharon Andrea Choa
Violin: Calvin Cheng Ho-chung, Vivian Shen Ting-chia*
Viola: Martin Kuo
Cello: Shawn Tam
Double Bass: Yvonne Chan Yui-woon
Flute: Alice Hui Ka-ching
Oboe: Cecilia Wan Lok-yu, Kenneth Sze Yu-hey
Clarinet: Eric Fung Chi-hang, Frederick Fung Chi-chuen
Bassoon: Kaden Yim Ho-yan, So Lo-ling
Horn: Rainbow Sun Xijun
Trumpet: Oscar Lam Wai-hang
Trombone: Jimmy Chiu Hon-kuen
Percussion: Sunny Ho Tze-fai, Bryony Che Hiu-lam
Physical theatre performers
*Fellow of The Orchestra Academy Hong Kong
Co-presented by:
Freespace