15/07 (Saturday) 5:00pm

Approximately 1 hour without intermission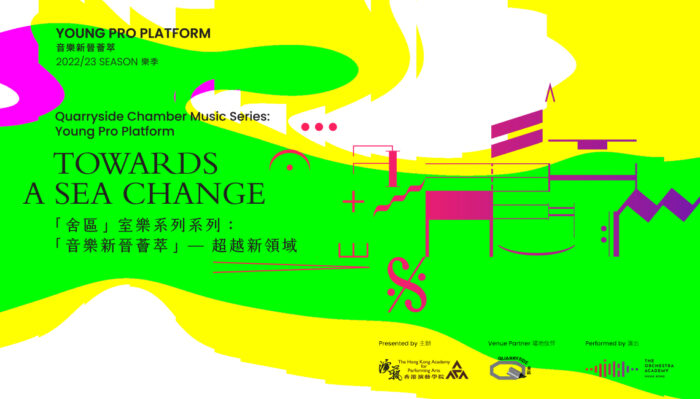 Towards A Sea Change Chamber Series visualises the musical creativity of the talented and versatile Young Pro Platform (YPP) players combining the theatrical and choreographical designs curated by Becca Cheung. 
In an unconventional and intimate setting with audience engagement, the programmes reveal the contemporary tastes of today's young musicians. They will seek to offer the listeners the warm and rich sounds of the brass instruments, the many possibilities of string playing beyond traditional string quartets, the unusual combination of wind instruments and the colourful sounds of ensembles with percussion. You will also hear YPP's own arrangements of Chick Corea's Children's Songs and Debussy's Prelude to the Afternoon of a Faun as well as experiencing players as the narrator for Mark Fish's Ferdinand the Bull, breaking the boundaries of the expectation of a musician's role in this rapid-changing contemporary world. 
The series is directed by Artistic Director Sharon Andrea Choa with the Artistic Team of YPP and sponsored by the Society of the Academy for Performing Arts (SAPA).
Claude Debussy – 
Prelude to the Afternoon of a Faun 
(arr. Alice Hui)
Mark Fish – Ferdinand the Bull
Astor Piazzolla – Histoire du Tango
Ivan Trevino – Song Book, Vol. 3 (I. Byrne, IV. Jónsi)
Concerts' Premier Sponsor

Artistic and Production Team
Artistic Director of Young Pro Platform: Sharon Andrea Choa*
Theatre Director and Project Curator: Becca Cheung
Project Co-Curator: Kristine Lee
Lighting Designer: Octavian Chan
Sand Artist: Edith Wu
Video Designer: Nickole LI Jialin 
Stage Manager: Yan Wong 
Deputy Stage Manager: Nickole LI Jialin 
Stage Crew: Karen Wong
*Head of Conducting and Cultural Leadership (Music), HKAPA  
Quarry Bay Harbourfront Community Space 'Quarryside',
20 Hoi Shin Lane (near Hoi Tai Street)

$100 (Standard; including 1 drink)
$80 (Concessionary; including 1 drink)
Free seating, first-come-first-served
Suitable for ages 6 and above
No admission for latecomers
Sightlines of some seats might be partially blocked
Welcome to join "Meet-the-Artist" session after concert
Highly recommend audiences to enjoy concert in light attire. Leaving outer garments & taking off shoes at designated area are required before entering the venue
The presenter reserves the right to substitute artist and change the programme should unavoidable circumstances make it necessary. For programme's latest updates, please refer to The Orchestra Academy Hong Kong's website